How to use condoms for maximum pleasure and effectiveness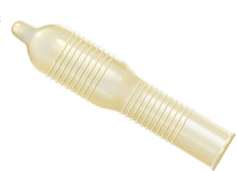 Choosing and using a condom is a challenging issue for many people. While many of the ads tout particular condoms as being designed for the woman's pleasure, I have spoken with very few women who found one kind of condoms to be particularly preferable to another-- at most a 2 on a scale of 1 to 10. I have occasionally heard women say that condoms were painful-- but once they realized the importance of sufficient quantities of a quality lubricant, the issue was resolved.

"Quality" doesn't need to be expensive: better to use plenty of a cheap gel than a smidge of that $30/oz. stuff). Most pharmacies sell a house brand for under $4 for a 4 oz. tube. Gels/jellies last much longer than liquids. Do *not* use *any* oil-based lubes with latex condoms-- not even your special magical organic infused plant oil grown under a pyramid; they first create microscopic holes in the condom that look like the Lincoln Tunnel to a virus, and will eventually cause it to break entirely. Yes, this includes coconut oil.

(Side note: many gel lubes now come in a short, wide tube with a very large cap. If you try to use it like a toothpaste tube, it will be very frustrating. This kind of tube is intended to be stood on its cap, so that the gel sinks to where the opening in the tube is. Then when you flip the cap off, a tiny amount of pressure on the tube will push the gel out.)

There are, of course, women and men who are sensitive/allergic to latex. For latex-sensitive people, look for condoms labeled "non-latex"-- there are quite a few on the market. Fortunately, there are several alternative materials that condoms are made of, including polyurethane, nitrile, and isoprene; these do not trigger sensitivities in the vast majority of people who are sensitive to latex. Polyurethane has some drawbacks, but isoprene and nitrile seem to be unobjectionable to most people.

So the choice depends largely on what works best for the man. For men who are resistant to using condoms because of the loss of sensation, they may not know that there are new kinds of condoms that have come out in the last few years that minimize or eliminate any loss of stimulation, especially when used with the proper technique.

These condoms are characterized by having a significantly enlarged/expanded end. Some also have twists (Inspirals, Twisted Pleasure) or textures (Pleasure Me) in the latex, which also adds to the sensation.
The most effective way that we have found to use this type of condom is as follows:
1. lubricate the two inches at the end of the penis (approximately one inch past the frenulum, the highly sensitive fold of skin just under the head of the penis). Be sure to use a very liquid lubricant like Probe; the gels do not work as well for this purpose.
2. unroll a couple of inches of the condom; most condoms have a "snap" as they are unrolled; two inches is about four snaps;
3. remove any air in those first two inches of the condom, by twisting, squeezing, or rolling that part (try the twisting method first);
4. put the condom on (still holding the end to keep the air out) with those two inches hanging off the end.
This creates a chamber at the end of the condom in which the penis can move relatively freely. This provides significant sensation to the glans, the frenulum, and the other highly sensitive parts of the penis.

Some people have raised the concern that this might make it easier for the condom to come off prematurely. Since the end of the condom near the base of the penis is not expanded, and that part of the penis does not have the additional lubrication recommended in the previous paragraph, this way of using condoms is no more prone to slipping off than conventional ones.  And if there is excess lubricant being pushed by the condom as it unrolls, it can be wiped away before rolling it all the way down.
Another benefit of this method is that when the condom has been partly unrolled and twisted, it is possible to put the lube in the condom, and use the condom to apply the lube. This can minimize the risk of transmitting STI's, since no one's hands will touch the penis before the condom is put on.
It is also worth pointing out that for many men, it is possible to put the condom on before the penis is erect. This can allow more choices as to when to put the condom on.

Several years ago, there were only one or two condoms that had the expanded design. Currently, there are many that have adopted this. I will mention several of these, but that is not necessarily an endorsement of those particular models; there are many out there, and new ones coming on the market all the time. We recommend trying the Durex Pleasure Me (formerly called Pleasuremax), the Pleasure Plus, the Inspirals, or the Twisted Pleasure to start.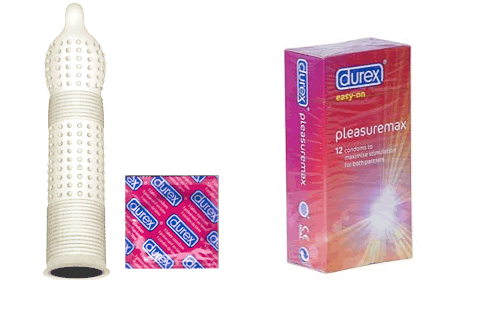 A good place to buy condoms is on ebay.com; a variety of sellers offer condoms that may or may not be retail packaged at a steeply discounted price.  At one time, ebay was a risky place to do business.  Ebay has taken a number of steps to curb fraud, or even inferior service, so that customer satisfaction is *extremely* high.  Vendors live in terror of getting too many complaints, because ebay will shut them off without hesitation.

Most of the condoms that have this newer design have a picture on the back of the condom box showing the enlarged end. In different models of condoms, even from the same manufacturer, the degree to which the end is expanded may vary significantly; so if one model doesn't seem to provide enough additional room, it is well worth trying another. Some manufacturers have an "extra large" size condom that *also* has an expanded end, such as the Trojan Magnum XL.
And the Reality FC2, the female condom, is even roomier, and is not latex; the main downside of this one is that it is somewhat hard to find, and is expensive—usually more than $3 each.   Recently, the company has changed their marketing, and are now only selling it by prescription, though there are still vendors selling it without a prescription.

Some of the ones that have the expanded end:

Durex:

Extra Sensitive (but *not* Extra Sensitive Ribbed) (go figure!)
Love Pleasure Pack (a variety pack-- some do)
Performax
Pleasure Me *** (See below)
Tropical
http://www.durex.com/en-US/Products/Condoms/Pages/CondomHomepage.aspx

Trojan:

Ecstasy
Intense ribbed
Twisted Pleasure (similar to Inspirals)
Very Sensitive
Her Pleasure
Her Pleasure Ecstasy
Her Pleasure Warm Sensations
Ultra Pleasure
Magnum (Magnums are large size; not the same shape as the others, but may work as well for some men)
Magnum Thin
Magnum Ecstasy
Magnum XL (extra large size)
Magnum Twister
The Trojan website has very clear pictures of what each condom type looks like:

http://trojancondoms.com/Product/ProductList.aspx


Lifestyles:

(note: their website does not give a clear indication of which models have the expanded shape; these are my best guess at which ones do)

UltraSensitive
UltraLube Plus
Pleasure Tipped
His 'n' Her Pleasure
http://www.lifestyles.com/condoms.php


I'm sure there are many more models from other manufacturers that also have the expanded ends, but this should give enough variety that most men will be able to find one that fits and meets any other requirements they may have.

All of the above are all latex condoms; I don't currently know of a non-latex model with an expanded end for those who have a latex allergy, but they may be available.

*** The Pleasure Me from Durex is the model that I currently recommend, and has worked *very* well for many people. In addition to the expanded end, it has both ribs and dots molded into the condom, which significantly increases the stimulation for the male. It is the first condom that I have ever gotten the comment that the wearer has to be careful after orgasm, or they will get *too much* stimulation on the frenulum and tip of the penis; most men have only had that happen when they were not using a condom.

The other advantage of the Pleasure Me is that it is available at reasonable prices, usually around 50 cents each in moderate quantities.
I often give "safe sex" talks, and having quality information is important to me. I would be delighted to have feedback of any kind on the above material.

Copyright by Michael Rios. Please feel free to pass this along, but include my name as author.